BMW X3 Service & Repair Manual: Replacing vacuum hose for brake booster (N63)
IMPORTANT: Before beginning work, fully press the brake pedal several times to reduce the vacuum pressure in the brake servo. This makes it easier to remove the vacuum hose.

Vacuum hose and non-return valve are welded together and are replaced together as a single unit.
Necessary preliminary tasks:
Read and comply with GENERAL INFORMATION.
Remove partition wall, units compartment
Pull off partition wall seal upper part (1) in direction of arrow.
Remove non-return valve (2) from brake servo.
Installation note: Check gasket for non-return valve and replace if necessary.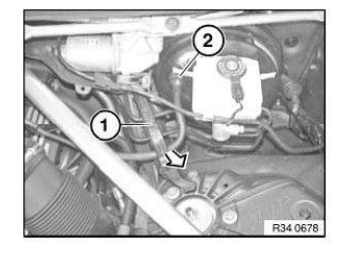 Unclip vacuum line (1) from line clip (2).
Unlock snap fastener (3) and detach vacuum line.