BMW X3 Service & Repair Manual: Electromechanical parking brake - emergency release
Necessary preliminary tasks:
Remove EMF ACTUATORS on left and right.
IMPORTANT: Secure vehicle against rolling, e.g. with chocks.
Using an 7 mm WAF hexagon socket wrench (1), turn back brake caliper spindle in clockwise direction.
Turn back until wheel can turn freely.
IMPORTANT: Do not turn the spindle to the end stop.

At the end stop a fault code is set which will cause the system to shut down! If this is the case, clear the fault memory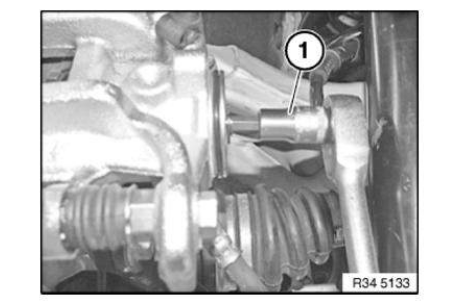 NOTE: Start-up after open circuit:

Switch on ignition.
Press brake button with brake pedal pressed.
The indicator light in the instrument panel goes out as soon as the parking brake is released.
OVERVIEW OF PARKING BRAKE