BMW X3 Service & Repair Manual: Pedal mounting block
REMOVING AND INSTALLING (REPLACING) COMPLETE BEARING SUPPORT FOR FOOT PEDAL
IMPORTANT: When the repair work is complete, please pay attention to the following:

Bleed clutch hydraulic system.
Carry out functional check.
Necessary preliminary work:
Remove left footwell trim .
Remove sensor opening (1).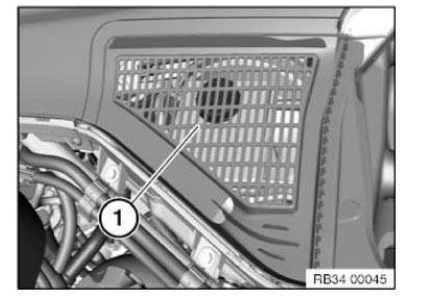 Lower the level in the expansion tank below the output to the clutch master cylinder.
Detach hose (1) from expansion tank in direction of arrow.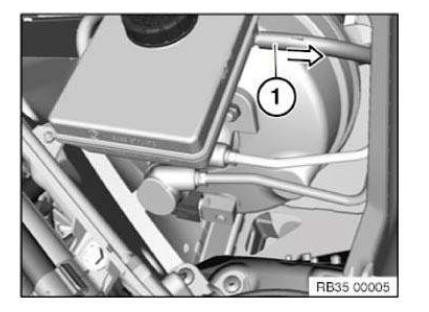 Press out plastic pin (1).
Press plastic pin (2) together and press out.
Installation note: Replace plastic pins (1 and 2).
Remove clutch master cylinder from the bearing support. Feed hose through the bearing support out of the expansion tank.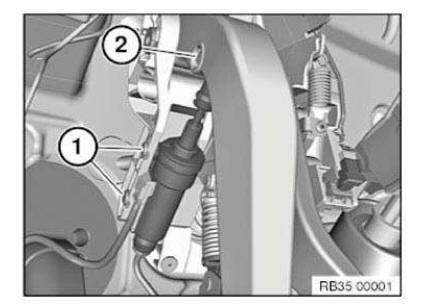 IMPORTANT: Note draining brake fluid and catch in a suitable collecting vessel, if applicable.
Remove retaining clip (1) and press out pin.
Unscrew nuts (2).
Installation note:
Make sure the retaining clip is fitted correctly in the groove! Check retaining clip and replace if necessary.
Replace self-locking nut.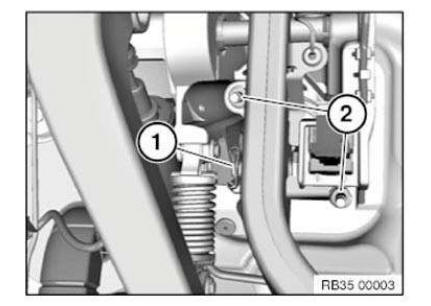 Disconnect plug connection (1).
Remove line clip (2).
Undo nut (3) and remove bearing support.
Installation note: Replace self-locking nut.
Replacement:
Modify BRAKE LIGHT SWITCH .
Modify clutch pedal.