BMW X3 Service & Repair Manual: Removing and installing front propeller shaft
IMPORTANT: Do not move vehicle under its own drive power once propeller shaft has been removed.

IMPORTANT: On four-wheel drive vehicles with defective, non-engaging drive, it is imperative that the following information is taken account of.
Necessary preliminary tasks:
Remove underbody protection at front and rear .
Remove REINFORCEMENT PLATE .
Release screws.
Installation note: Replace ZNS bolts.
Slide propeller shaft towards rear and remove.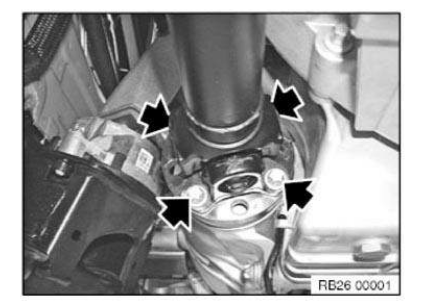 Installation note: Slide propeller shaft fully towards rear.
Sealing cup (1) must snap audibly into place and rest entirely on dust guard (2).