BMW X3 Service & Repair Manual: Replacing complete propeller shaft center bearing
Special tools required:
Necessary preliminary tasks:
NOTE: The propeller shaft is balanced.

The front and rear propeller shafts must be reassembled in the same position.
Detach gaiter (1) from groove (2).
Mark front propeller shaft (3) and rear propeller shaft (4) in one plane.
Installation note: Make sure gaiter (1) is securely fitted in groove (2).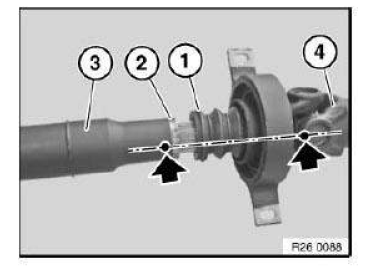 Pull apart propeller shaft.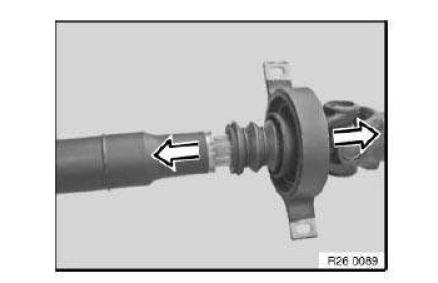 Installation note: If necessary, insert new clamping ring (1) into front propeller shaft (2).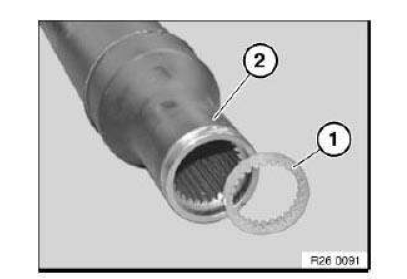 Release gaiter (1) with screwdriver from groove (2) and pull off over longitudinal splines.
Installation note: Apply a coating of grease to longitudinal splines on shaft.
Push gaiter (1) during installation into groove (2) and make sure it is firmly fitted.
Observe markings and force front propeller shaft onto longitudinal splines (markings must be flush).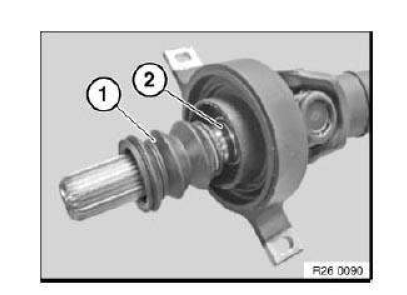 Install special tool 00 7 500 between center mount (1) and universal joint (2).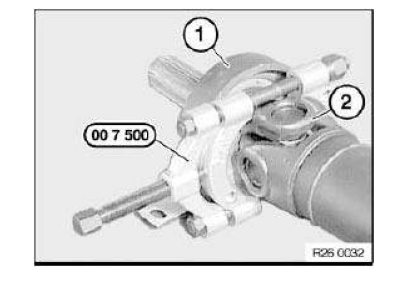 Using a hydraulic press, force center mount (1) off propeller shaft (2).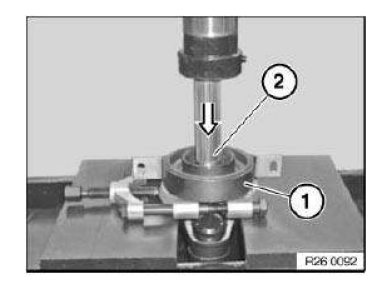 Force new center bearing (1) onto propeller shaft. Collar (2) must point in direction of travel towards front propeller shaft. Drive center mount to limit position with special tool 33 1 020.