BMW X3 Service & Repair Manual: Removing and installing/replacing trailing link on left or right spring strut dome
Special tools required:
IMPORTANT: Vehicles must not be driven without tension struts.

Driving without trailing links may damage the vehicle body.

trailing links can be secured with screws or nuts.

Screws must be tightened to specified torque and then tightened down to specified angle of rotation with special tool 00 9 120 .
Necessary preliminary tasks:
Remove COWL PANEL COVER .
Release screws (1).
Lever out cable clip (2).
Remove cover (3).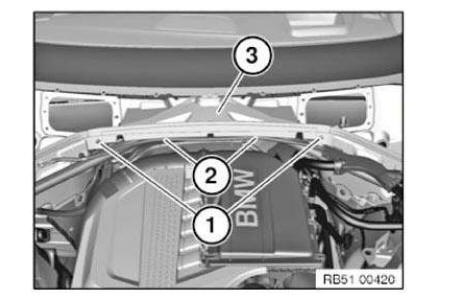 Unfasten cable clip (3).
Release screws (1).
Remove trailing link (2).
Installation note: Replace screws (1), tighten to specified torque and then to angle of rotation.