BMW X3 Service & Repair Manual: Replacing shaft seal(s) for output shaft(s) in rear axle final drive
Special tools required:
00 5 010
32 1 060
33 1 308
33 5 130
33 5 140
Necessary preliminary work:
Remove REAR AXLE FINAL DRIVE.
Use special tools 00 5 010 and 32 1 060 /33 1 308 to remove radial shaft seal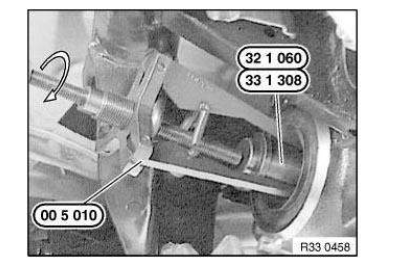 Installing new shaft seal:
NOTE: The installation protective ring (1) serves to protect the sealing lips of the radial shaft seal (2) when installing the output shaft.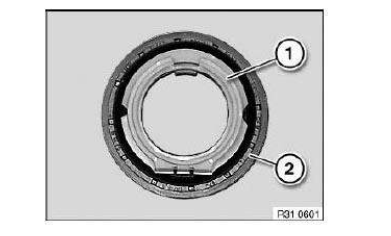 IMPORTANT: Installation protective ring (1) must not slip out of radial shaft seal!
Coat housing plate flange of new shaft seal with approved rear differential oil. Drive in radial shaft seal as far as it will go with following special tools (depending on rear axle final drive/outer diameter).
Remove special tool.
Open installation protective ring (1).
IMPORTANT: High installation forces indicate that the output shaft spline teeth are damaged or deformed! Check gearing, replace damaged components if necessary.

Check dust plate (1) for damage, renew if necessary.

Replace circlip (2).

Coat highlighted contact surface (3) of output shaft with approved final drive oil.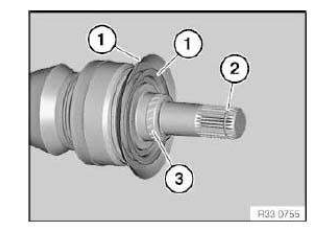 Insert output shaft into rear axle final drive.
Pull out assembly protection ring at lug (1) until one of the two predetermined breaking points gives.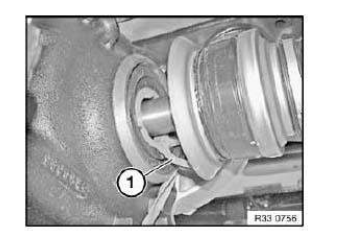 After installation:
Check FINAL DRIVE OIL LEVEL, correct if necessary.