BMW X3 Service & Repair Manual: Removing and installing/replacing rear anti-roll bar
Remove BOTH ANTI-ROLL BAR LINKS FROM ANTI-ROLL BAR.
Lower REAR AXLE SUPPORT.
NOTE: To simplify the graphic, anti-roll bar removal is shown on the removed rear axle.
Release screws (1).
Remove both RUBBER MOUNTS FROM ANTI-ROLL BAR.
Turn anti-roll bar (2) and remove from the side.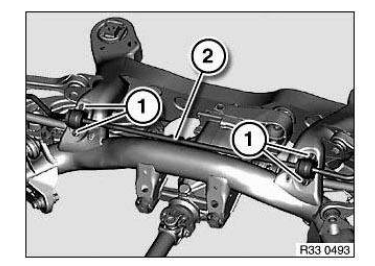 Installation note:
Check both rubber mounts for damage and replace if necessary.
Keep retaining bracket, rubber mount and stabilizer clean and free from oil and grease.