BMW X3 Service & Repair Manual: Replacing (dde) control unit (N47 D20 O1)
IMPORTANT: Read and comply with NOTES on protection against electrostatic damage (ESD protection).
Necessary preliminary work:
Read out the fault memory of the DDE control unit.
Switch off ignition.
Disconnect BATTERY EARTH LEAD .
FOLLOW INSTRUCTIONS FOR REMOVING AND INSTALLING CONTROL UNITS.
Replacement:
Carry out programming/encoding.
If no data can be read out from the previous control unit, carry out injection quantity compensation (description at end of instructions).
IMPORTANT: It is absolutely essential to read out the fault memory with the BMW diagnosis system and to create a fault memory printout.
Switch off ignition.
Release screws (1).
Detach coolant hose from cover of electronics box.
Remove electronics box cover (3).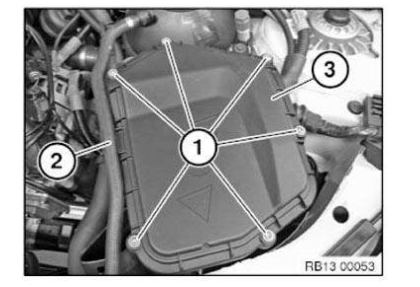 Unlock all connectors (1) from control unit and disconnect.
Detach rubber grommets (2) from electronics box. Place wiring harnesses to the side.
Installation note:
Make sure grommets are correctly fitted (watertightness).
Release retainers (1) on control unit.
Pull out control unit (2) towards top.
Injector adjustment:
If the DDE control unit has been replaced, it will also be necessary to carry out injection quantity compensation! The adjustment value (7-position letter/number code) is engraved on each injector.
Enter the numbers/letters according to the installation position (cylinder) of the injectors.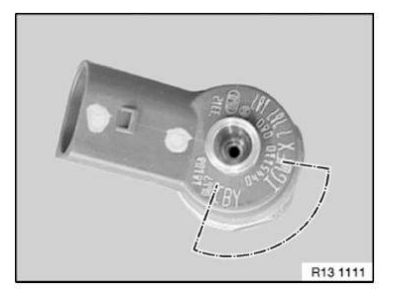 Select "DDE".
Select "Adjustment, injection quantity compensation"
Select "Test plan"
The adjustment must be entered for each injector.
It is necessary to adjust the injectors to ensure their full operability.
NOTE: Check stored fault messages.
Delete fault memory.