BMW X3 Service & Repair Manual: Replacing control unit (dme) (N52T)
IMPORTANT: Read and comply with notes on PROTECTION AGAINST ELECTROSTATIC DISCHARGE (ESD PROTECTION)
Necessary preliminary work:
Switch off ignition.
Disconnect BATTERY EARTH LEAD .
Remove ACOUSTIC COVER
IMPORTANT: FOLLOW INSTRUCTIONS FOR REMOVING AND INSTALLING CONTROL UNITS.
Replacement:
CARRY OUT PROGRAMMING/ENCODING
IMPORTANT: It is absolutely essential to read out the fault memory with the BMW diagnosis system and to create a fault memory printout.
Switch off ignition.
Unlock all plugs from control unit (1) and detach.
Unfasten screws (2).
Remove control unit.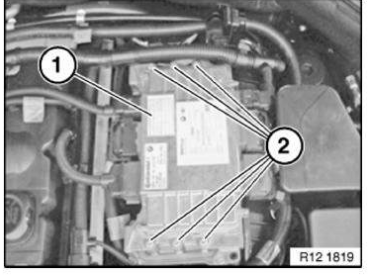 NOTE: Check stored fault messages.
Delete fault memory.