BMW X3 Service & Repair Manual: Replacing crankshaft pulse sensor (N52T)
IMPORTANT: Read and comply with notes on PROTECTION AGAINST ELECTROSTATIC DISCHARGE (ESD PROTECTION) .

IMPORTANT: Aluminum-magnesium materials.

No steel screws/bolts may be used due to the threat of electrochemical corrosion.

A magnesium crankcase requires aluminum screws/bolts exclusively.

Aluminum screws/bolts must be replaced each time they are released .

Aluminum screws/bolts are permitted with and without color coding (blue).

For reliable identification: Aluminum screws/bolts are not magnetic .

Jointing torque and angle of rotation must be observed without fail (risk of damage) .
Necessary preliminary work:
Read out the fault memory of the DME control unit.
Switch off ignition.
Remove INTAKE PLENUM .
NOTE: Installation location of pulse sensor for crankshaft is underneath starter motor.
Detach plug (1) from crankshaft pulse sensor (2).
Release screw.
Installation note:
Replace aluminum screws.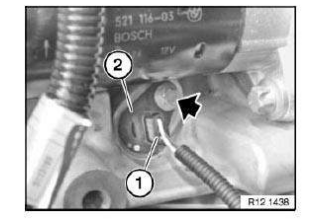 Withdraw pulse sensor (2) from crankcase.
Installation note:
Replace sealing ring.
NOTE: Check stored fault messages.
Delete fault memory.