BMW X3 Service & Repair Manual: Lowering/raising front axle support
Special tools required:
31 5 251
00 2 030
31 5 255
31 5 256
WARNING: Danger of injury! Failure to comply with the following instructions may result in the vehicle slipping off the lifting platform and critically injuring other persons.
When supporting components, make sure that:
the vehicle can no longer be raised or lowered
the vehicle does not lift off the locating plates on the vehicle hoist.
IMPORTANT: Before lowering/removing front axle support: Observe SAFETY INFORMATION for raising the vehicle In order to avoid damage to vehicle hoist, perform weight compensation on vehicle.

Load spring strut domes with sand bags.

WARNING: SECURE ENGINE IN INSTALLATION POSITION WITH SPECIAL TOOL to prevent it from falling down.
Necessary preliminary tasks:
Secure ENGINE IN INSTALLATION POSITION .
REMOVE UNDERBODY PROTECTION.
Remove ANTI-ROLL BAR LINK FROM ANTI-ROLL BAR.
Remove STEERING SHAFT FROM STEERING BOX .
Partially release left and right WHEEL ARCH COVERS .
Only on left side at ride height sensor: Disconnect PLUG CONNECTION ON SENSOR .
Disconnect plug connection (1) on steering box.
Disconnect plug connections (2) on steering box and set down with left side member.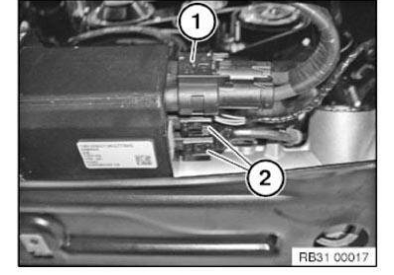 Unclip cable (1) of steering box on front axle support and set down with right side member.
Installation note: Replace faulty cable clips.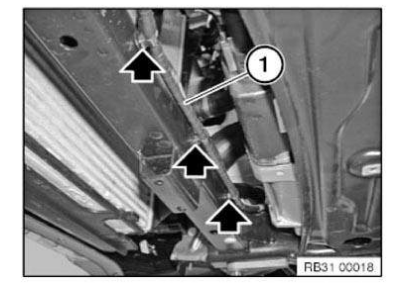 N52T, N55: Loosen screws on the coolant pipe (1).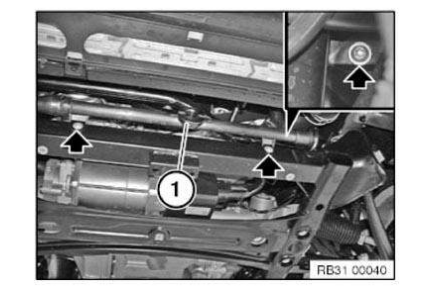 IMPORTANT: Make sure when lowering/removing the front axle that the cable of the steering box is not damaged.
Engage special tool 31 5 251 with a 2nd person helping completely on workshop jack 00 2 030 .
Insert special tools 31 5 255 in telescopic supports of a profile rail pair.
Insert special tools 31 5 256 in telescopic supports of other profile rail pair.
NOTE: In a profile rail pair, two profile rails are connected to one another by gearing.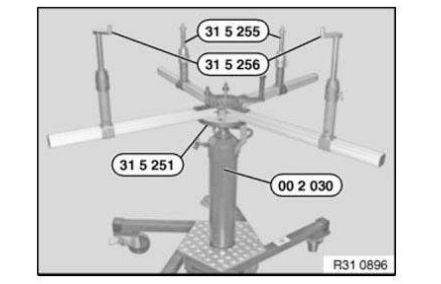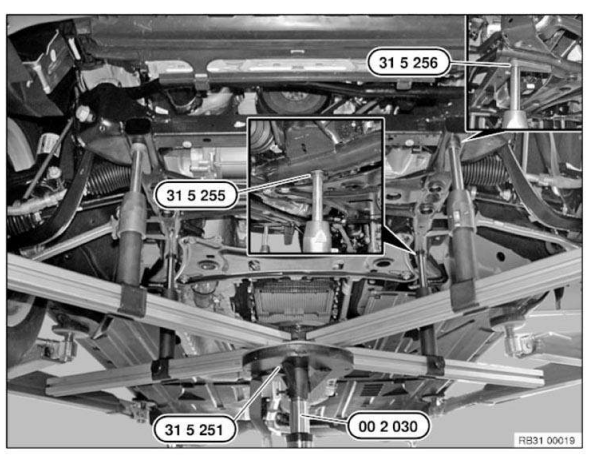 The mounting points on the left side are shown: Align special tools 31 5 251 , 31 5 255 and 31 5 256 to front axle support.
Support front axle support by operating workshop jack 00 2 030 .
Release screws (1).
Lower front axle support.
Installation note:
Check thread for damage.
If necessary, repair with HELICOIL THREAD INSERT.