BMW X3 Service & Repair Manual: Additional work for camber correction
IMPORTANT: Changes in axle geometry caused by accidents must under no circumstances be rectified by camber adjustment!
NOTE: The swivel bearing may only be replaced if the camber is outside the specified tolerance after toe adjustment.
Necessary preliminary tasks:
Adjust TOE-IN.
Check camber values; if necessary, replace swivel bearing .
NOTE: Camber correction swivel bearings are marked with an -/+ and, if applicable, with a color coding/part number at position (1)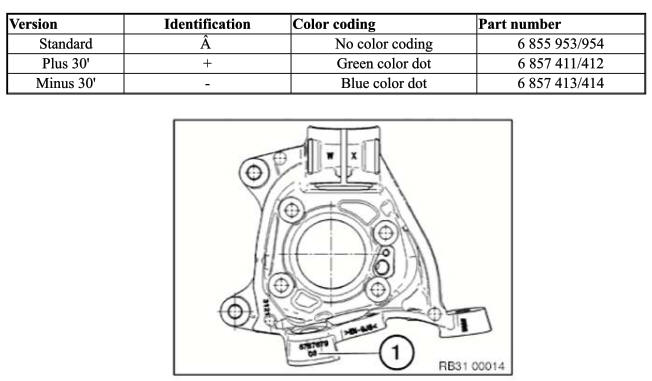 These camber correction swivel bearings are used to correct the camber values by 30 min. To be used only if the tolerance values are exceeded or undershot!
After Installation note:
Check directional stability of car; if necessary, repeat TOE-IN adjustment.