BMW X3 Owners Manual: Changing between panels
After a menu item is selected, e.g., "Radio", a new panel is displayed. Panels can overlap.
Move the controller to the left.

Closes current display and shows previous display.

Reopens previous display by pressing BACK button. In this case, the current panel is not closed.

Move the controller to the right.

Opens new display on top of previous screen.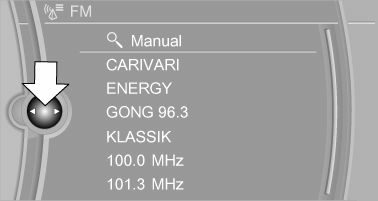 White arrows pointing to the left or right indicate that additional panels can be opened.
Display of an opened menu
When selecting a menu, it generally opens with the panel that was last selected in that menu.
To display the first panel of a menu:
Move the controller to the left repeatedly until the first panel is displayed.
Press the menu button on the controller twice.