BMW X3 Service & Repair Manual: General notes for labelling with adhesive films
In the event of a repair the adhesive films must be partially or completely replaced. The basic procedure for all areas of the vehicle is described below.
In addition, vehicle-specific repair instructions are available.
1. Preparation: Wash and dry vehicle. Rework with compressed air as required in area of joints.
Clean complete component surface with glass cleaner (BMW part number 83 12 0 396 775). Also clean the inside of the component in areas, in which adhesive films are applied.
Only carry out repair work with clean hands!
IMPORTANT: Labels can only be applied to recently painted components after a waiting period of 2 weeks . The paint hardening is only fully completed after this time.
2. Procedure for applying labels: All adhesive films in the repair kit are marked with numbers. Prepare the required plastic films prior to start of repairs.
The templates included in the repair kit assist orientation. A straight line running over the different components is the top priority.
Pull off the templates positioning of the adhesive films.
Only throw away templates after completion of all repair work, as some templates are used several times.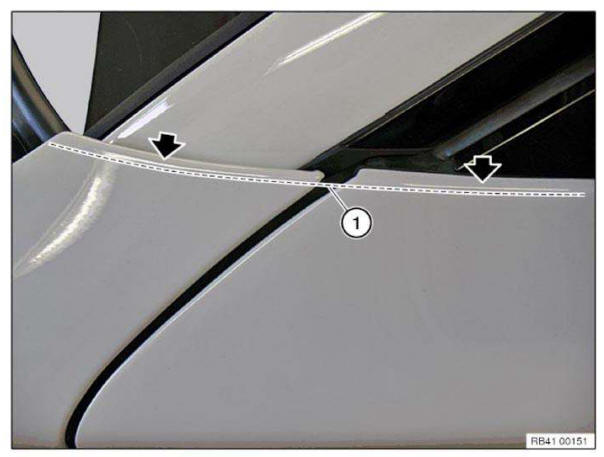 Templates are always applied along the light edge (1). The light edge is the reflection of the light source in radius (see arrow).
Roughly align the adhesive film using a template.
For large adhesive films, pull off the first 20 cm of protective film and fold back the edge.
Align and lightly press down the adhesive film. Use only one finger for this and not the entire hand so that air pockets are unable to form under the adhesive film.
Pull off the remaining protective film and press down the adhesive film from front to rear and from inside to outside.
If faults are made in applying the adhesive film, it can be pulled off and repositioned several times. When no further corrections have to be made, use a squeegee to press down the adhesive film firmly from inside to outside.
Lay protruding ends of the adhesive film around the component edge and press down firmly.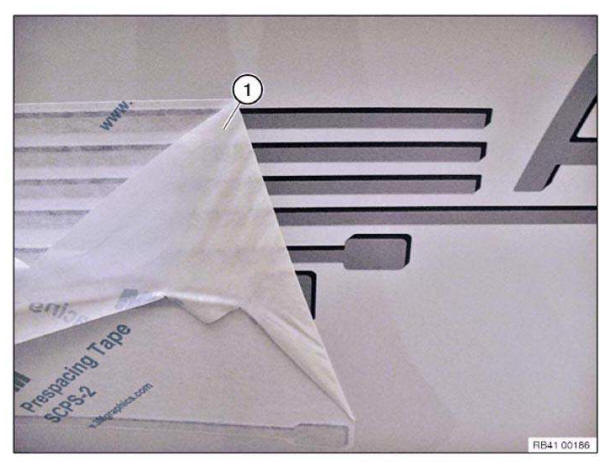 Carefully pull off backing film (1) at an acute angle.