BMW X3 Service & Repair Manual: Reinforcement plate with stud bolt (bonded)
In the case of partial replacement, a body component is cut at the point described in the repair instructions.
A reinforcement plate is bonded in to ensure sufficient strength.
Reinforcement plates are available as new parts and must also be used .
NOTE: The following graphics serve as general illustrations of reinforcement plate repair work. They apply to the sectional repairs on the outer skin which are produced using the adhesive joining method.
Overview of reinforcement plates:
Reinforcement plate, sill
Reinforcement plate, C-pillar
Reinforcement plate, universal
Reinforcement plate, C- or D-pillar
Nuts (not shown)

Plastic nut dia. 18 mm, part number 07 14 1 943 122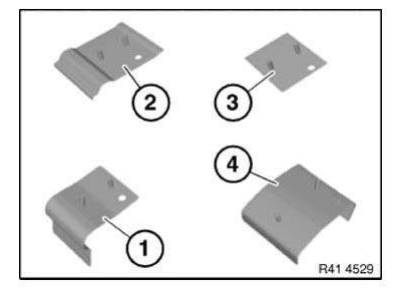 Expansion nut dia. 22 mm, part number 07 14 7 169 847
Mark component in accordance with dimension a and cut.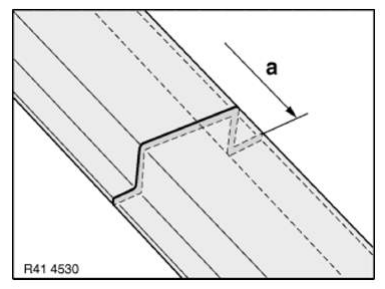 Preparation of new part: Some of the reinforcement plates are oversized.
If applicable, it is necessary to rework reinforcement plates at the edges or cut them to size until the reinforcement plates are in tension-free contact with the outer skin.
It must be possible to push the reinforcement plates into the body without shearing off the adhesive.
Adjust reinforcement plate (1) to fit in component (2) on vehicle.
Make semicircular recesses (3) for the stud bolts (4).
Diameter of recesses approx. 10 - 12 mm.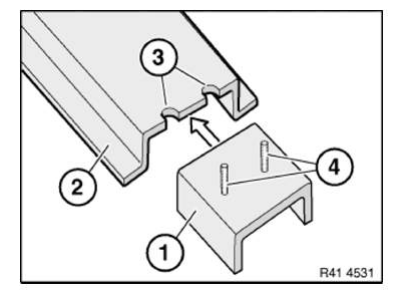 Secure reinforcement plate by screwing on nuts (1).
Fit new part (2). Make recesses (3) in new part in a semicircular shape.
Diameter of recesses approx. 10 - 12 mm.
Remove reinforcement plate again.
NOTE: Width of joint between new part and component on vehicle approx. 5 - 8 mm (at least 30 mm flange width per side).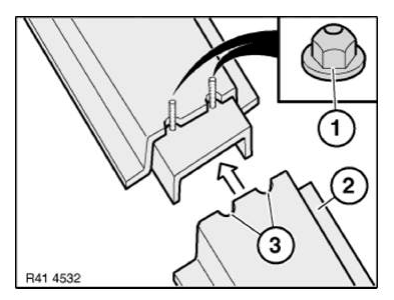 Chamfer cutting edges (1) on joint by grinding.
Component on vehicle
New part
Installation note:
If the cutting edges have not been sufficiently chamfered, there may be voids in the paintwork after painting.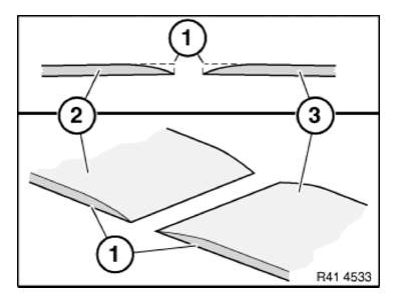 IMPORTANT: Do not grind new part and body in area of bonding surfaces.
Procedure for using universal reinforcement plate: The universal reinforcement plate needs to be adapted. The plate must be divided if the distance between the pins is too great.
Dimension a is between 40 and 80 mm depending on the space available.
Secure plates with N4 punch rivets.
NOTE: Ensure the rivet is positioned correctly! Rivet head is on the adhesion side!
Rivet the plate to the inside of the flange!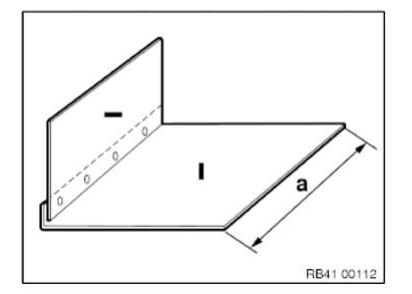 Installing reinforcement plate
Clean all bonding surfaces.
Apply adhesive to reinforcement plate in area (1).
Apply more adhesive in the radii to avoid air pockets.
Apply additional adhesive to the outer skin around radii.
Carefully slide reinforcement plate into component on vehicle and secure by screwing on nuts (2). Screw on nuts a few turns only.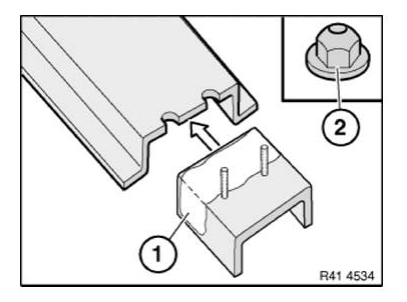 IMPORTANT: When joining reinforcement plate, make sure there is sufficient adhesive on bonding surfaces.
Apply adhesive to reinforcement plate bonding surface (1).
Apply more adhesive in the radii to avoid air pockets.
Apply additional adhesive to the outer skin around radii.
Fit new part (2).
Align new part to adjoining component and secure with gripping pliers.
First tighten nuts at the radii.
Only then tighten all nuts in the flat areas.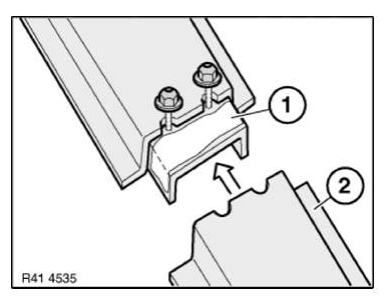 IMPORTANT: Check that the transition of the components is OK at the separation point. Corrections can only be made before the adhesive has hardened. Straightening at a later stage is not possible.
Concluding tasks at separation point:
After adhesive has hardened:
In area visible to customer:
Cut off stud bolts with bodywork saw.
Completely remove adhesive residue in joint (1).
Round off sharp edges by grinding.
IMPORTANT: Avoid heating the separation point by excessive grinding.

Reworking by pressing not permitted!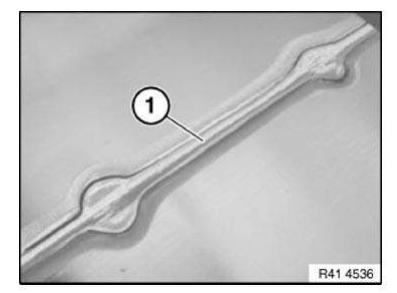 Only the BMW-approved METAL FILLER should be used on the joint.
METAL FILLER - INSTRUCTIONS FOR USE
Not in area visible to customer:
Examples: The joint is covered by sill trim panel, windows, seals, etc.
Grind off stud bolts and surplus adhesive flush. Do not use metal filler. Paint area as specified in BMW Painting Handbook.
NOTE: After painting, the joint becomes visible as the adhesive shrinks. This has no affect on the quality.