BMW X3 Service & Repair Manual: Repairing clips for roof strip
The following instructions describe the permanent repair gluing of clips which were originally secured with T- pins.
The repair gluing at the same time protects the area of the torn-off T-pin permanently against corrosion.
1.0 Information on dangers/hazards:
Read and comply with the manufacturer's information on dangers/hazards prior to application.
Avoid eye and skin contact. Wear solvent-resistant protective gloves.
Do not inhale adhesive fumes. Apply in well ventilated rooms only.
1.0 Equipment
ADHESIVE K4
Static mixing tube
ADHESIVE GUN
Cleaning agent R1
Adhesive tape for fixing
2.0 Preparing the surface:
Surface temperature of bonding surface and room temperature at least 18ºC.
Cover area around bonding surface.
Remove swarf, flaked paint etc. from bonding surface with a brush. Use of compressed air prohibited!
Clean bonding surface with cleaning agent R1.
Let cleaned surface air dry for at least 2 minutes. Bonding surface must be completely dry.
Do not contaminate bonding surfaces once they have been cleaned (sweat from hands, fingerprints, etc.).
3.0 Applying the adhesive:
Fill the hole (1) created by the torn-off T-pin with adhesive and spread over a length of approx. 4 cm (2) in the roof channel.
IMPORTANT: The hole must be completely filled or sealed with adhesive!
Apply adhesive bead (1) to the underside of the clip.
In so doing, fill channel of clip with adhesive.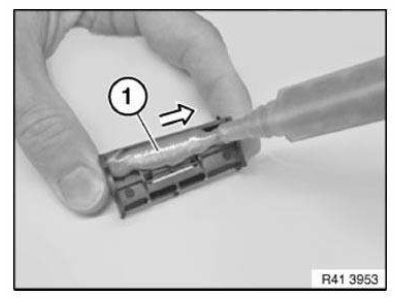 Move clip (1) into position and secure by hand.
If the adhesive is not already emerging evenly through the channel, apply additional adhesive from above.
Adhesive bead (2) must be below the clip height.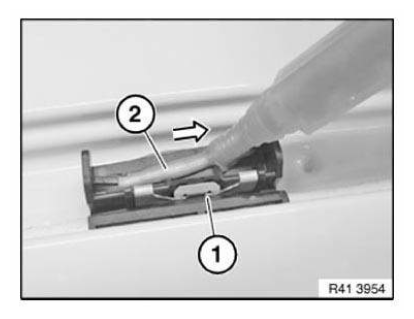 Secure clip with adhesive tape (1), approx. 150 mm long.
Apply adhesive tape in direction of travel.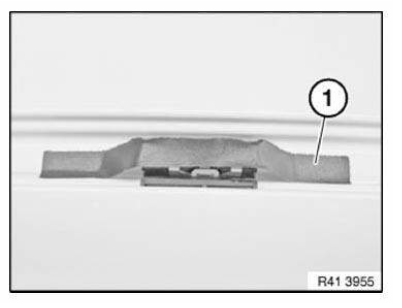 4.0 Hardening period:
Adhesive tape can be removed after approx. 10 mins.
Earliest possible load capability, e.g. fitting of roof strip, after 30 minutes.