BMW X3 Service & Repair Manual: Replacing blind rivets
Special tools required:
IMPORTANT: Lay out protective mats to protect the interior against swarf from the drilled-out rivets and damage.

Lay out protective mats in the relevant working area:

Dashboard
Entrance area
Passenger compartment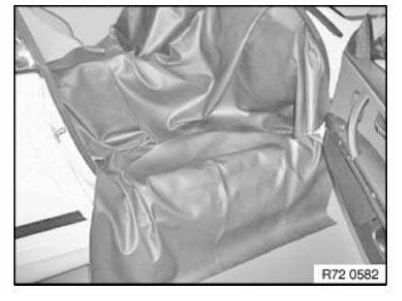 Schematic diagram of folding pack holder for head airbag: Drill off rivet plate down to rivet shank with a 10 mm twist drill bit.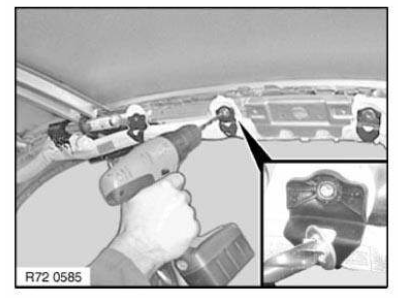 Described for grab handle holder: Drill off rivet plate down to rivet shank with a 10 mm twist drill bit.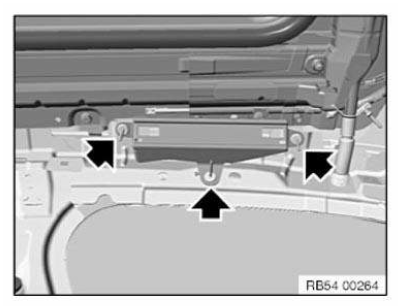 Cut off blind rivet shanks down to sheet metal as level as possible.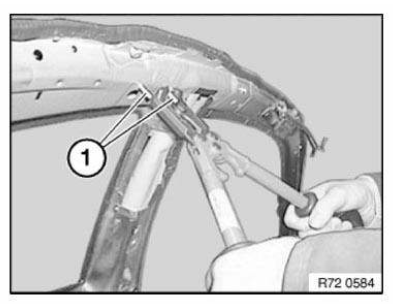 Deburr remaining rivets with nipper pliers.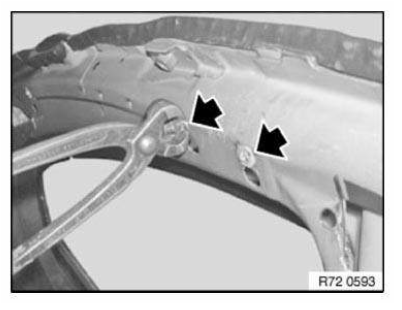 Installation note: Apply primer to paintwork damages on side frame.
NOTE: Depending on accessibility, the rivet heads will have to be removed using special tool 2 348 128 or 72 1 210 .
Press off rivet heads (1) using special tool 2 348 128 and remove.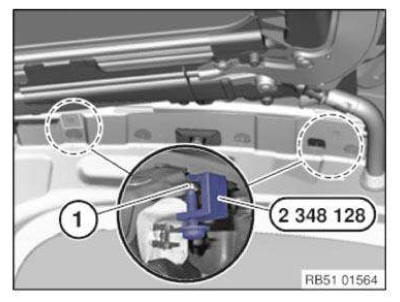 Special tool 72 1 210 for collecting rivet heads.
Shank (1) of special tool is flexible and can be adapted to the relevant body contours.
NOTE: Insert butyl in the collecting tray (2) to secure rivet heads and prevent them from falling out.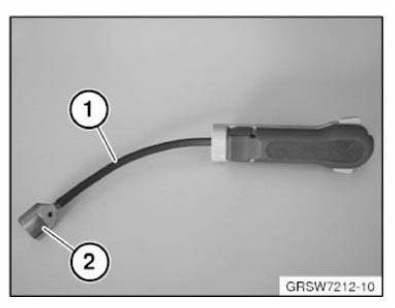 Insert special tool 72 1 210 through bore hole in body next to attachment points.
Position special tool from rear on rivet head in cavity.
NOTE: A second person will be needed to help hold the special tool on the rivet head during the driving-out operation.
Make sure collecting tray is correctly fitted on rivet head.
Drive out stem with hammer and 6 mm punch.
Carefully feed special tool out of body so that rivet head does not fall out of collecting tray.
NOTE: If the rivet falls out of the collecting tray into the side frame when the special tool is fed out, this area must be generously filled with foam.
For details of procedure for filling cavities with foam, see further operations.
Use cavity preservation for foam filling.
Cavity foam can also be used if necessary.
Fit tube to foam can.
Push the hose in through the pillar holes.
Fill cavity with a filling material.
WARNING: Empty foam can completely onto cardboard and after hardening dispose of foam and can in residual waste.

Can may burst if not completely emptied.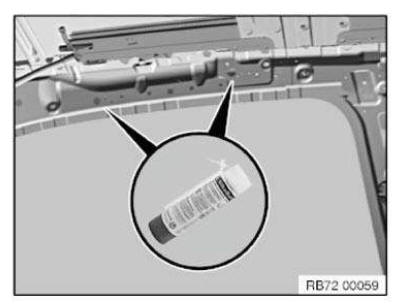 Overview of rivet gun: Riveting of gas generator housing and holders for folding pack with rivet gun.
The interchangeable head is changed for the different work operations.
Riveting of gas generator housing with:
17/36 nosepiece and short shank
Riveting of holders for folding pack:
17/40 nosepiece and long shank