BMW X3 Service & Repair Manual: Replace entrance for front left door
Observe procedure for REPAIR STAGE 3.
Read contents of BODY, GENERAL.
Following new body parts are required (refer to OVERVIEW OF CONSUMABLES):
(1) A-pillar with entrance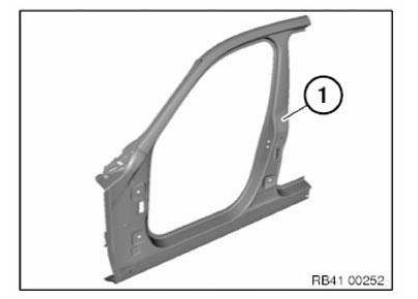 Mark severance cuts in accordance with specified dimensions and cut.
IMPORTANT: Cut outer panel only for following severance cuts.
Dimension a = approximately 380 mm in front of Ø 20 mm hole.
Dimension b = approximately 360 mm before separating cut a.
Open welded connections in areas (1).
Installation note: Mark new part in accordance with severance cuts on vehicle and cut.
Weld in REINFORCEMENT PLATES at severance cuts.