BMW X3 Service & Repair Manual: Removing and installing rear lid
Read contents of BODY, GENERAL.
Necessary preliminary tasks:
Remove trim panels on rear lid .
Disconnect all cable connectors and pull wiring harness out of tailgate.
Remove both gas-filled struts .
NOTE: This work step must be carried out with a second person assisting.
Release screws (1) on both sides of vehicle.
Remove tailgate.
Installation note: Install tailgate at screw locations on hinge.
If necessary, ADJUST TRUNK LID.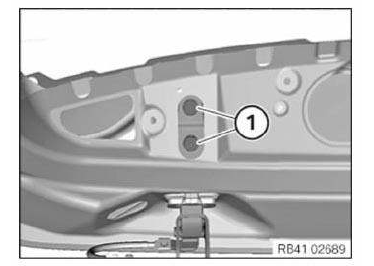 If RFK optional equipment is fitted: Calibrate RFK .