BMW X3 Service & Repair Manual: Removing and installing or replacing rear left or right brake caliper (trw)
Necessary preliminary tasks:
Remove WHEEL .
Read and comply with GENERAL INFORMATION.
Switch off ignition.
After completing repair work: BLEED BRAKE SYSTEM.
Press brake pedal down to floor and secure with pedal support.
NOTE: The pedal support may only be released when the brake lines are reconnected.
This prevents brake fluid from emerging from the expansion tank and air from entering the system when the brake lines are opened.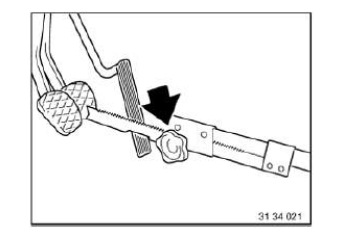 IMPORTANT: Grip brake hose at square head (2) so that connecting piece cannot rotate in retaining bracket.
Disconnect brake hose from brake line (1).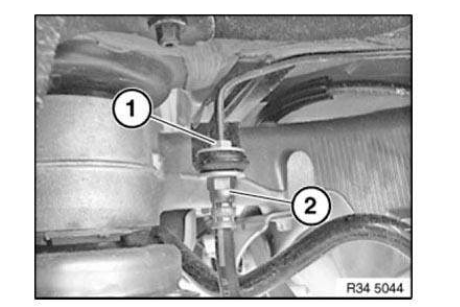 Detach brake hose (1) from brake caliper.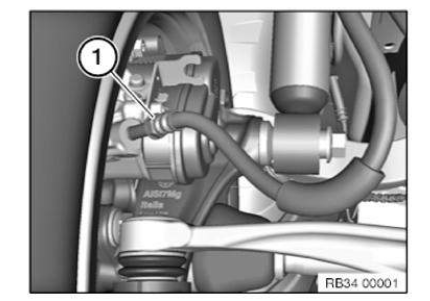 IMPORTANT: Never twist brake hose when installing it and avoid all contact with components attached rigidly to the body.

NOTE: First tighten brake hose on brake caliper.

Insert brake hose in bracket and screw onto brake pipe.
Disconnect plug connection on parking brake actuator.
IMPORTANT: Switch off ignition at least 30 s before disconnecting the plug connection!
Unscrew guide bolts (1).
If necessary, grip at hexagon head (2).
Remove brake caliper (3).
Installation note: Replace guide bolts.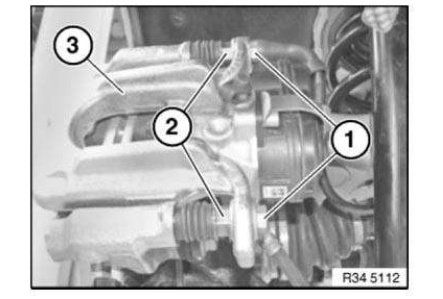 The EMF actuator must be remounted if the brake caliper is replaced.
After installation, observe the following: switch on ignition and, using parking brake operating element, open parking brake once, close once and open again.