BMW X3 Service & Repair Manual: Replacing a rear pulse generator
IMPORTANT: Read and comply with notes on PROTECTION AGAINST ELECTROSTATIC DAMAGE (ESD protection).
Necessary preliminary work:
Remove rear WHEEL .
Read and comply with GENERAL INFORMATION.
Open housing cover (1).
Disconnect plug connection for pulse generator.
Unclip line from holders (2).
Installation note: Ensure proper locking of plug connector and proper seating of rubber grommets.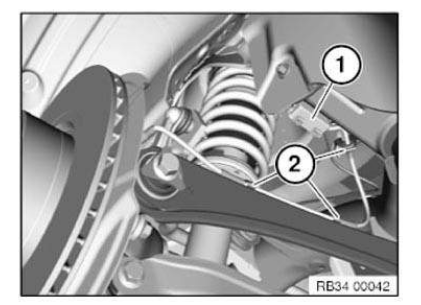 Release screw (1).
Withdraw wheel speed sensor (2) from bore hole.
Unclip line from holder (3).
Clean bore for pulse generator and lubricate with Staburags NBU 12/K lubricating grease.
IMPORTANT: Prior to installation, check sensor head for damage and replace if necessary.