BMW X3 Service & Repair Manual: Replacing rubber mount in left or right trailing link
Special tools required:
IMPORTANT: The rubber mounts are only permitted to be replaced once.
Carry out check: There must always be a minimum amount of play in the guide joint.
1. Check guide joint play
NOTE: Apply light pressure to the trailing link (in the area of the guide joint) in the horizontal and vertical directions.
Play is OK: Check the screw connection. (see Point 2) Play is not OK: Replace RUBBER MOUNT AND GUIDE JOINT.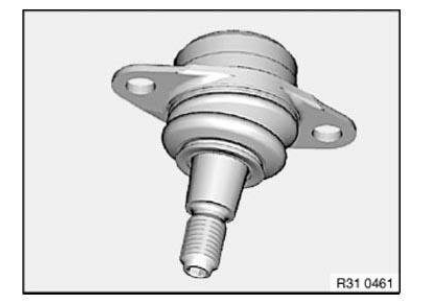 2. Check screw connection (trailing link to guide joint) by tightening to 60 % of tightening torque 31 12 2AZ and listening for cracking sound.
Torque wrench cracking sound: Replace rubber mount
Screw connection turns: Replace trailing link and guide joint .
Replacing rubber mount:
Using a press and special tools 31 2 261 and 31 2 264 , press rubber mount out of tension strut.
NOTE: Special tool 31 2 264 must be exactly flush with rubber mount bush.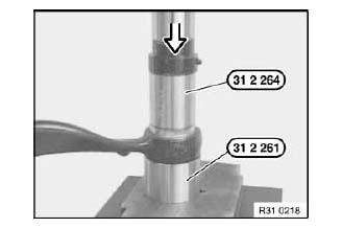 Installation note: Keep rubber mount and bushing in tension strut clean and free from grease.
Align rubber mount and trailing link with markings (K) and press into place.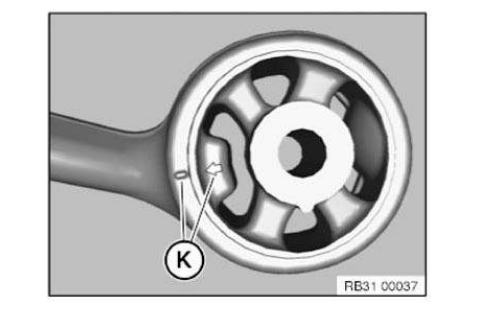 Installation note: Protrusion (A) equally large.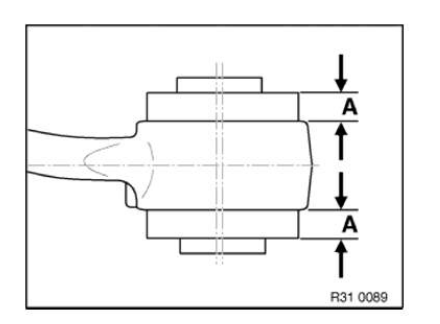 REPLACING RUBBER MOUNTS ON BOTH TRAILING LINKS
NOTE: Procedure is described in 31 12 138 Replacing rubber mount in left or right trailing link.