BMW X3 Service & Repair Manual: Replacing microfilter for interior ventilation
IMPORTANT: Risk of damage! A/C system must not be operated without the prescribed filter element.
Note on cleaning:
Spray microfilter housing from inside with BMW pollen filter housing cleaner* (observe instructions for use).
Comply WITH NOTES AND INSTRUCTIONS ON HANDLING CLEANING AGENTS ! Wipe away excess fluid.
This kills off germs, bacteria and fungi that cause smells.
The smell that results on the plastic parts of the microfilter housing is eliminated.
* Sourcing reference: BMW Parts Department
Remove sealing lips at marked points.
Unclip line and water hose (1) from cover (3).
Unlock retaining lug (2).
Feed out cover (3).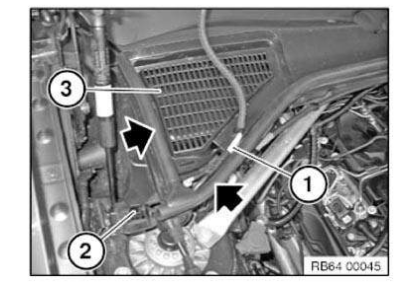 Cover tabs (1) must snap in correctly under cowl panel.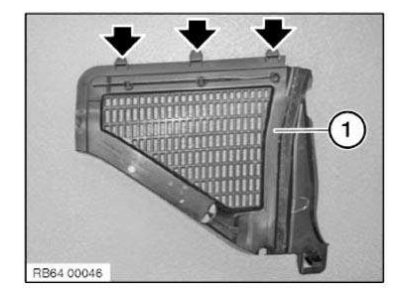 Remove filter cover (1) in direction of arrow.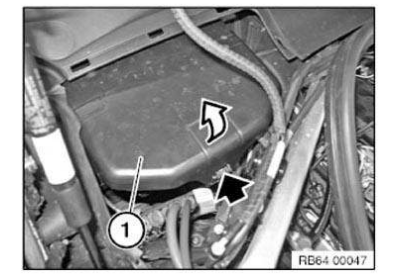 IMPORTANT: Risk of damage!
NOTE: For purposes of clarity, illustration shows removed cowl panel.
Ensure that the latch mechanisms on the microfilter housing cover (1) are correctly seated under retaining lugs on the microfilter housing (2).
Retaining lugs on microfilter housing (2) must be neither bent nor damaged.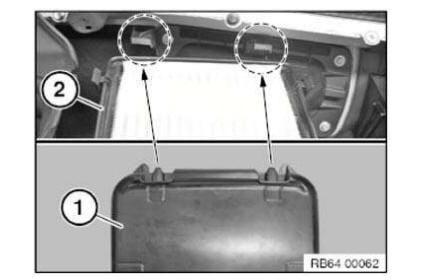 Remove upper microfilter (1) in direction of arrow.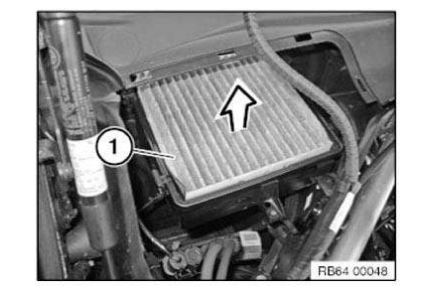 Unclip filter frame (1) at the marked points and detach.
Remove lower microfilter (2) in direction of arrow.
Installation note:
Two micro filters are installed in the vehicle. These are connected by a hinge.
Make sure upper microfilter and lower microfilter are installed in the correct position.
The arrows on the micro filters mark the direction of the air intake.