BMW X3 Service & Repair Manual: Instructions for replacement of air conditioning capacitors and radiator/coolers
IMPORTANT: Even when they are correctly installed or due to normal driving, radiators (oil cooler, radiator, charge air cooler) or air conditioning condensers may show slight impressions or deformations on their discs (1).

A slight sag with a large radius for the air conditioning condenser is also permissible.

As long as tightness/function are not degraded and an adequate distance of a few mm between the radiator and air conditioning condenser remains in place, this is not damage in either case .

Radiators or air conditioning condensers are not to be replaced in these cases!
NOTE: The deformations shown can be bent back with a standard fin comb..
Damage to lines carrying media or on the flat pipe require exchange of the radiator or air conditioning condenser (2-6).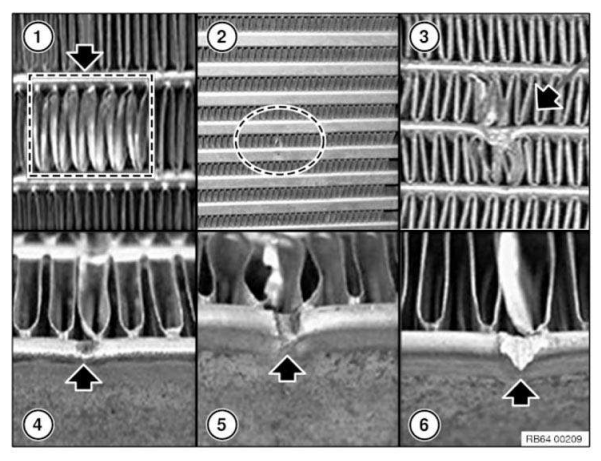 Dryer flask (integrated in the air conditioning condenser): Round dents/depressions are permitted.
The air conditioning condenser is not to be replaced in this case.