BMW X3 Service & Repair Manual: Workshop equipment (BMW and mini vehicles)
Minimum workshop equipment requirements in order to ensure the correct and expert performance of body repairs: The tools listed below must be used .
Repair stage 1:


(1) Sourcing reference BMW Workshop Equipment Catalogue
Repair stage 2: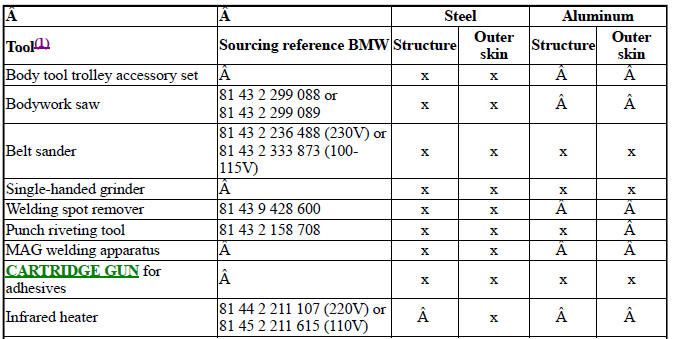 (1) Sourcing reference BMW Workshop Equipment Catalogue
In addition, the repair stage 1 tools are required.
Repair stage 3:

In addition, the repair stage 1 and 2 tools are required.
IMPORTANT:

In vehicles from model year 2001, higher-tensile and high-tensile steels are used in certain areas.

It is essential to check whether the spot-welding apparatus used conforms to the technical requirements of the currently recommended welding sets.

The use of technically obsolete equipment may have serious consequences for the structure of the vehicle (e.g. in the event of a crash). In the end, this can result in safety and product liability risks which cannot be calculated.
Use and restrictions:
Definition of recommendation:
All currently recommended spot welding sets comply according to the latest information with the requirements relating to reliable welding of today's and future BMW Group vehicles. A spot welding unit will lose its recommendation as soon as tests with materials and material combinations designated for future use in BMW Group vehicles return negative results (see Table Group 1). All previous application before the withdrawal of the recommendation shall remain unaffected.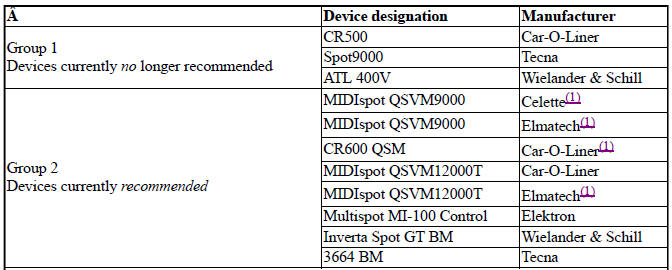 (1) no longer produced
Application options and restrictions of above devices.

NOTE: April 2012
All BMW and MINI vehicles not mentioned can be repaired with the equipment of Group 1 and Group 2.